Hovering in the sky above Ukraine are hundreds of small drones from U.S. startups, searching for survivors in war-pummeled cities and Russian hide-outs in the scarred landscape.
Those startups, including Seattle-based BRINC Drones Inc. and Silicon Valley's Skydio Inc., are rushing to fill a gap in Ukraine after government officials called out products supplied by Chinese company SZ DJI Technology Co., the world's largest commercial drone maker, as a security risk for Ukraine's military and civilians.
Ukrainian officials have called for limiting the use of DJI drones, saying technical glitches in the company's products may have been intentional by DJI to sabotage the country's defense. They have also raised concerns about Russia's successful use of DJI equipment.
DJI denies allegations it is aiding Russia's assault or meddling with Ukraine's products. Company spokesman Adam Lisberg said DJI doesn't allow sales of its consumer drones for military purposes and using its products in combat is inappropriate. The Russian Embassy in Washington didn't respond to a request for comment.
BRINC since last month has donated 10 drones to Ukraine and sold approximately 50 more to aid the country's defense. Helicopter pilots and members of Ukraine's State Emergency Service are using them in their search-and-rescue and intelligence-gathering missions, Chief Executive Blake Resnick said. Skydio donated dozens of drones to equip Ukraine's Ministry of Defense, with hundreds more sold to nongovernment organizations and governments supporting Ukraine, said Chief Executive Adam Bry. The startup has a team working full time to supply Ukraine with drones.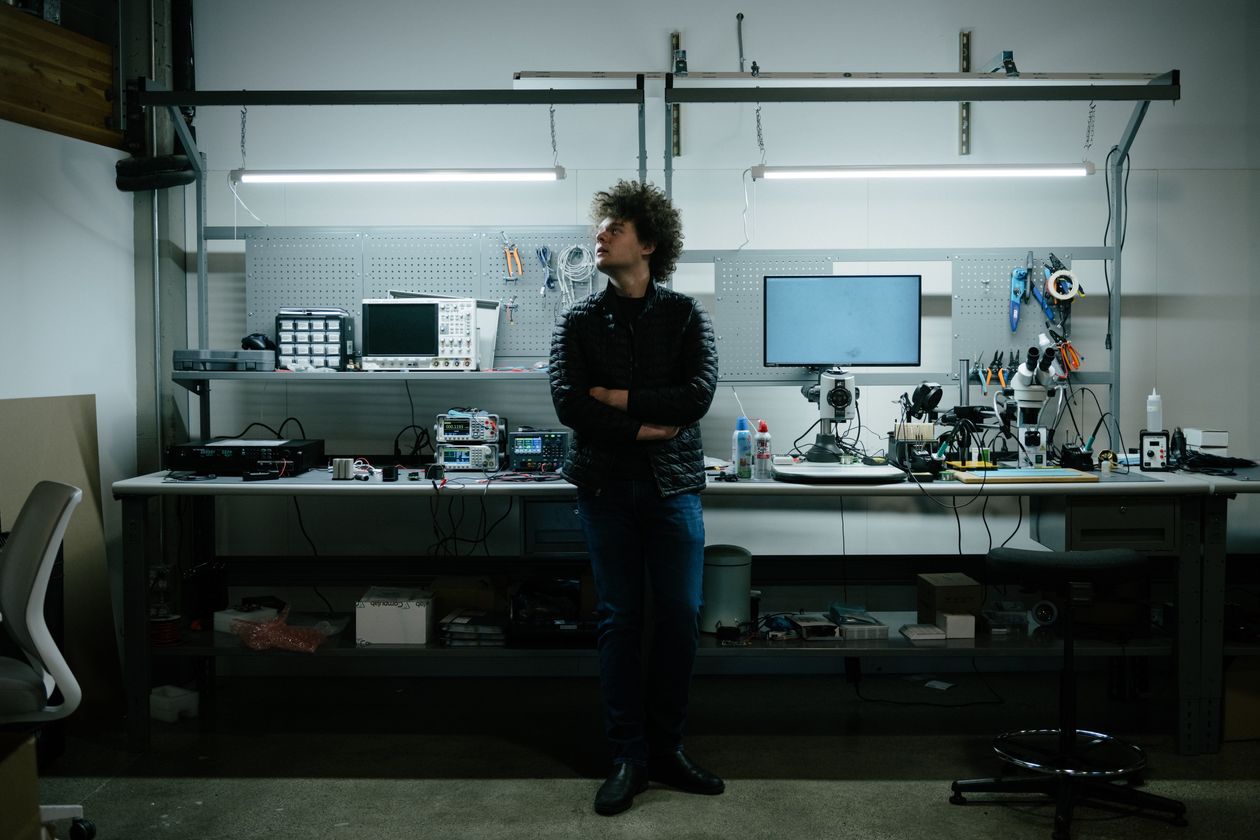 Blake Resnick, BRINC's chief executive, said his company in March bought back all of its drones from distributors and donated them to Ukraine..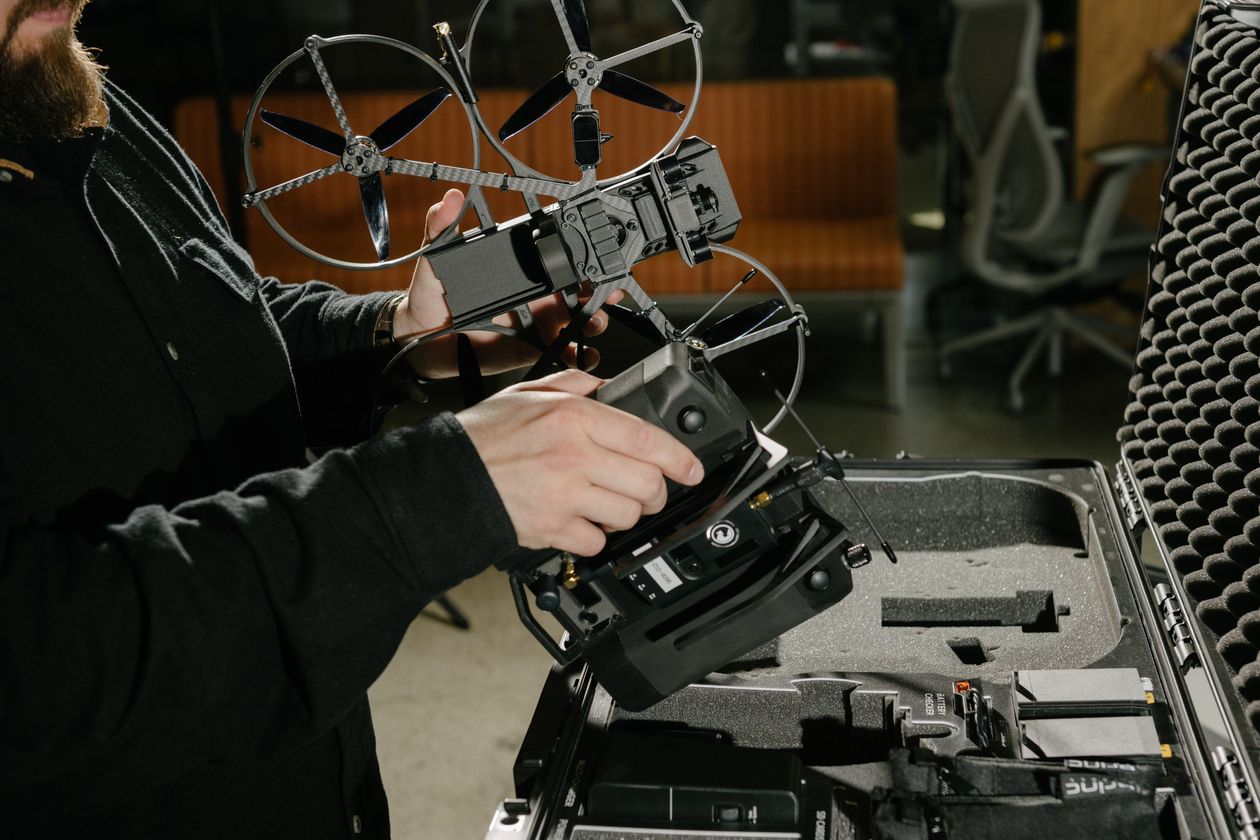 BRINC says its tactical drones use technology that makes it difficult for Russian systems to track them..
The U.S. startups are keen to showcase their technology in active conflict to drum up more business, venture-capital funding and U.S. government support after years of taking a back seat to DJI's dominant sales in the civilian drone market, which has left little room for another player, say drone industry leaders and consultants. More than a half dozen U.S. startups said they have donated or sold their drones and drone-defense systems to Ukraine, aiding in the country's defense with reconnaissance, intelligence gathering and capturing images of war crimes.
Aerorozvidka, a nongovernment organization supplying Ukraine's security and defense forces, is among those buying drones made by Skydio to have an alternative to DJI, a spokesperson said. Another is Ukrainian drone dealer Taras Troiak, who for years made a living selling DJI drones from his shops in Kyiv and Lviv. He bought a Skydio drone for testing and said he plans to order more to replace some of his DJI inventory, which he had given to the military. He and DJI have severed ties.
"All future purchases will not be Chinese drones," Mr. Troiak said about his drone retail business. DJI's Mr. Lisberg declined to comment on a dispute with a dealer.
Ukrainian government officials—and Mr. Troiak—complained about the failure of a number of DJI's AeroScopes, which are drone-detection systems to identify and track other drones and their pilots. These AeroScopes were located around the country, in some cases to protect critical infrastructure. Ukrainian government officials and DJI said that several of these systems wouldn't switch on at the start of the war. That led some Ukrainians to allege that DJI, spurred by geopolitical motivations, tampered with the systems to allow Russian drones to fly undetected.
Ukraine's second-largest city has been under increased Russian shelling after nearly two months of heavy fighting. WSJ's Yaroslav Trofimov reports on the dire conditions in Kharkiv as residents survive on little food and shelter in basements. Photo: Felipe Dana/Associated Press
Mr. Lisberg said the company knew some of Ukraine's AeroScopes were malfunctioning before the war started and was trying to fix them, and never tampered with its products.
The Russians have successfully used the same AeroScope systems, Ukrainian officials say, to target Ukrainian drones and pilots. The Ukrainian government said this month that "the company helps the Russians in their attacks," according to a report from the State Service of Special Communications and Information Protection of Ukraine.
Ukrainian soldiers have been advised to avoid connecting DJI drones to Wi-Fi or mobile networks, people with knowledge of the matter said. The Ukrainian government report said that DJI drones aren't completely safe and recommended ceasing use of all DJI products that were purchased and turned on in other countries.
U.S. drone startups, which have found most of their customers in the military and public-safety agencies, say their drones have superior security. The location of Skydio drones and their data are protected by military-grade encryption, as are the drones from Teal Drones Inc., which shipped 15 drones to Ukraine from its Salt Lake City factory, executives said. Aircraft from BRINC navigate in flight with lidar—light pulses that allow the aircraft to see the surrounding environment—rather than using GPS, said Mr. Resnick. Those features mean Russia's counterdrone systems can't easily track them.
Defense drones from Utah-based Fortem Technologies Inc., which are designed to tackle enemy drones out of the sky, are difficult to detect in flight, in part because they use radar to navigate and they fly autonomously, said CEO Timothy Bean. The Ukrainian Ministry of Defense ordered a shipment from Fortem, and multiple drone defense systems were sent this month, Mr. Bean said. San Francisco-based Dedrone is also shipping its counterdrone systems overseas to be used in Ukraine, people familiar with the matter said. Chief Executive Aaditya Devarakonda declined to comment.
The Ukrainian Ministry of Defense didn't respond to questions about the country's use of American drones and counterdrone systems.
A donated BRINC drone is used to search an apartment building in Chernihiv, Ukraine, that was hit by a Russian missle. VIDEO: BRINC DRONES
Startups are in some cases going to extreme lengths to deliver their technology to Ukraine. Mr. Resnick, BRINC's CEO, said his company purchased all of its own inventory in March from distributors that were supposed to sell them to paying customers, and instead shipped the drones to Ukraine. He said he joined his deputy, Andrew Cote, who is a former Defense Department senior leader, and two instructors for a 15-hour training in northwest Poland with Ukrainian pilots and rescue workers. BRINC drones can be helpful in urban combat because they can fly indoors, smash glass and turn themselves right side up and take off again if knocked out of the sky, said Mr. Resnick.
The controversy surrounding DJI in the Ukraine conflict has reinforced longstanding U.S. national security concerns held by some policy makers and regulators about China controlling a commercial technology that also has clear military applications. The Federal Communications Commission's senior Republican, Brendan Carr, said the events in Ukraine call for stronger U.S. action against DJI.
"Reports about DJI drones being used by the Russian military in Ukraine only underscore the need for the U.S. to adopt a clear and consistent response to the potentially serious national security threats posed by this Chinese drone maker," Mr. Carr said.
Defense Department officials said they see the situation as an opportunity to rally more government funding for U.S. drone makers and ease what they call onerous regulations. DJI critics in Washington are pushing for passage of a bill proposed by Republican lawmakers that would add DJI to the FCC's list of covered entities, paving the way toward banning the company's aircraft from using U.S. communications infrastructure.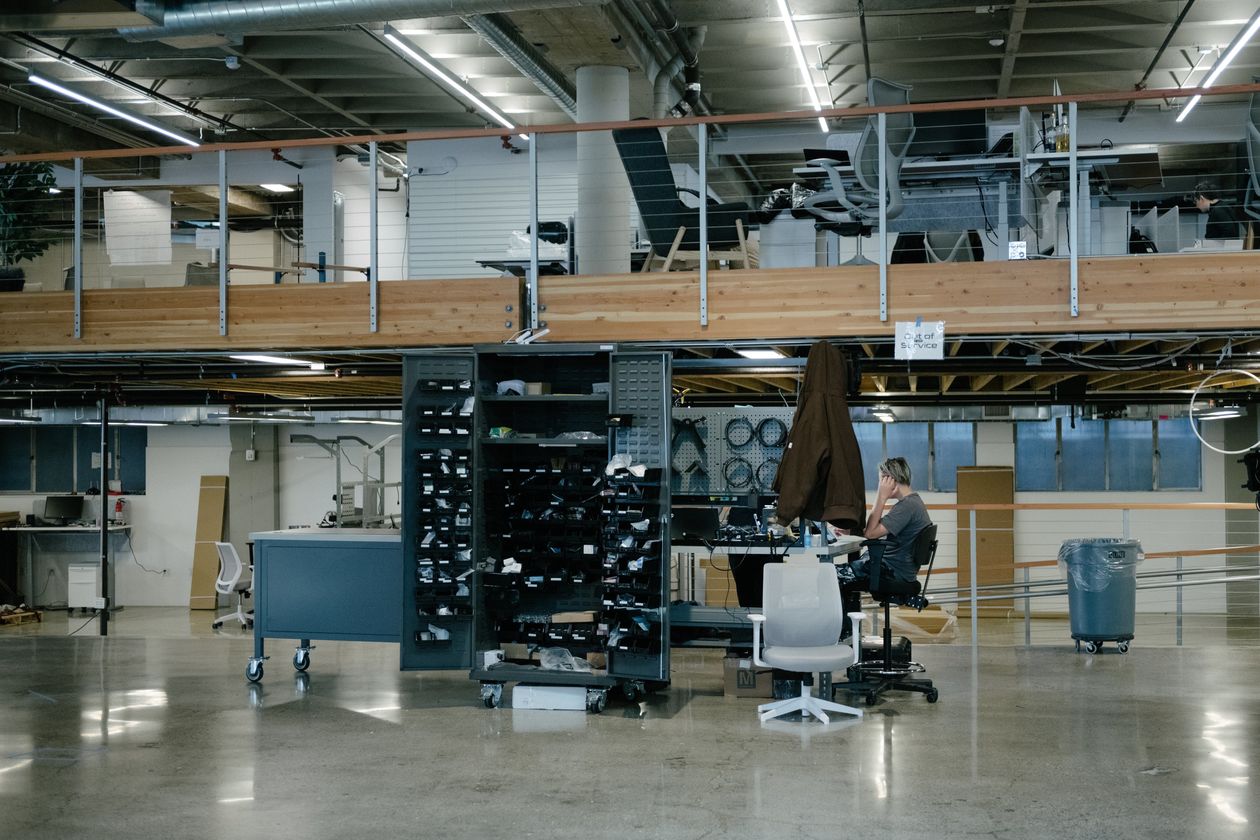 BRINC offices in Seattle. U.S. startups are dwarfed in the commercial market by Chinese drone maker DJI.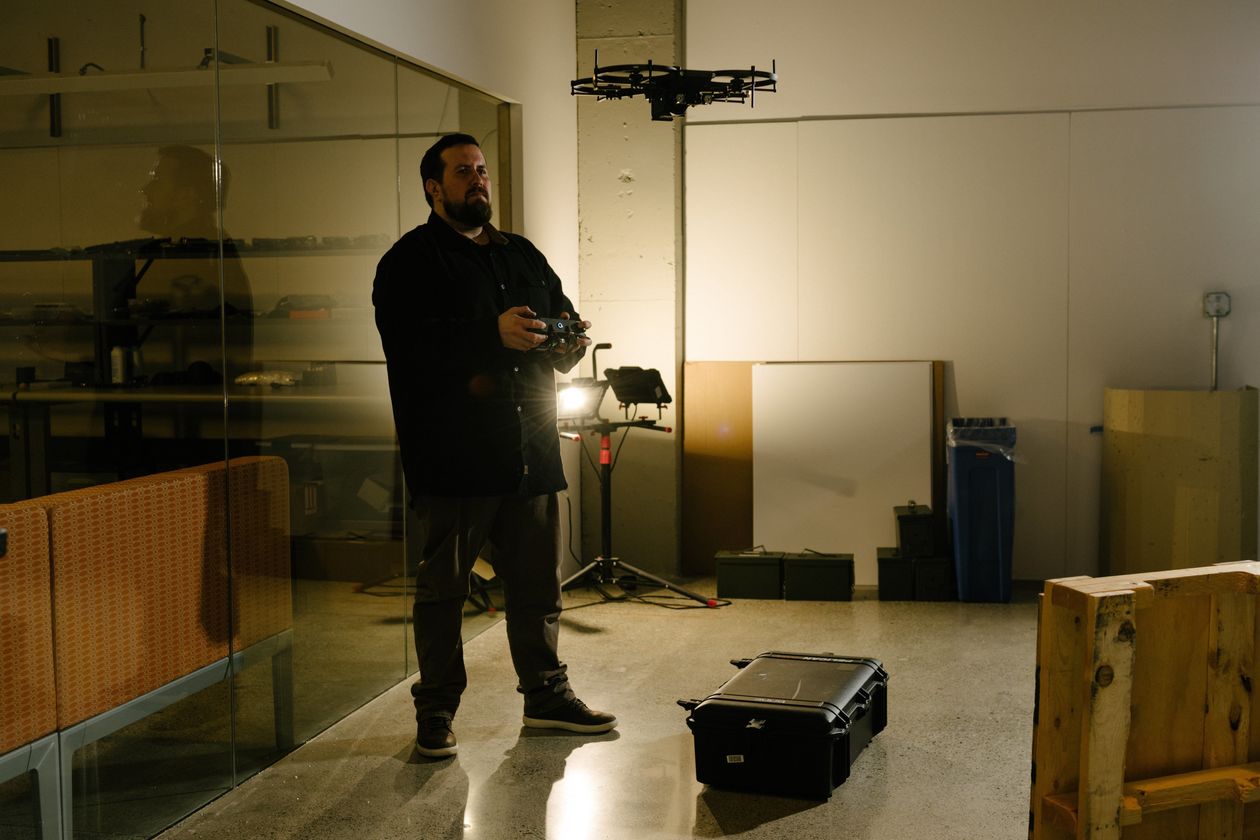 BRINC Senior Researcher Dmitry Tarasov operating a drone at company headquarters.
The bill could offer a domestic boost to U.S. companies. A 2017 ban already prohibits the U.S. Army from using DJI drones, and an executive order from former President Trump further limited their use. But the Chinese company supplies 90% of the drones used by U.S. public-safety agencies, according to a data analysis by Bard College in New York.
"The real risk here, of course, is that ill-considered legislation will block American public-safety agencies and other beneficial government operations from being able to make their own choices to use our products," said DJI's Mr. Lisberg. He said the national security concerns are without merit because there are no known cases of data collected on a DJI product being dispatched to China.
DJI is viewed across the industry, even by its competitors, as the best in the business because of its advanced technology, which is both easy enough for any hobbyist to use and cheaper than other models. In March, DJI launched a new drone to sell to public-safety agencies and shared it with public-safety professionals in the U.S. to test.
"DJI drones are undoubtedly in their form factor the most advanced drones in the world," said Mr. Resnick, who worked for DJI in 2017, a year before he founded BRINC. "They build marvels."
American drones are more expensive than DJI drones and can have long wait times, as U.S. companies have limited manufacturing capabilities and inefficient supply chains, said drone consultants and company executives. Startups said they are working to expedite production and are still hamstrung by the chip shortage that began during the pandemic.
-Kate O'Keeffe and Yang Jie contributed to this article.